Trustee supplier of Bitumen 60/70 , 80/100 ,40/50 ,Asphalt and Sulphur Base in UAE , Dubai. TT & LC payments . Al Jabal is the top bitumen exporter in middle east which supply road paving companies around the world. Direct & whatsapp number: +971 523717966
Click Here to see Our Latest Bitumen Shipments
We are able to offer Bitumen with below Grades
Packing Drums (180 KG Net / 190 KG Gross Weight ). Also for some markets we produce drums of 150 KG Net Weight As well, specially for Bangladesh Market. Jumbo bags (1 MT Weight ), During the cold season loading in 20 ft containers and during the hot season loading in 40 ft containers.
Definition of bitumen penetration grade 60/70
Penetration grade 60/70 means the penetration value is in the range 60 to 70 at standard test conditions which commonly used as road paving Grade. This is applicable for the production of hot mix asphalt for bases and pavements and for road construction, which supplied by AL JABAL GLOBAL TRADING FZE as a top bitumen exporter.
This is produced through aeration on vacuum bottom (the raw material used for making left in vacuum distillation column in oil refineries) in production units. Its penetration grade (the measure of hardness) is between 60 to 70. Bitumen is specified by the penetration and softening point test. Designing is by penetration range only. The penetration grade has a thermoplastic property which causes the material to soften at high temperatures and to harden at lower temperatures. This unique temperature-viscosity relationship is important when determining the performance parameters such as the adhesion, durability and application temperatures.

The Bitumen mode is dependent on temperature. The temperature-vs-stiffness relationship of this is dependent on the type of crude oil and its refining method. Penetration grade 60/70 is semi-hard penetration grade This is used as a paving grade which is suitable for road construction and repair. It is also used for the production of asphalt pavements with the below technical specification. This grade is mainly used in the manufacturing of hot mix asphalt for bases and wearing courses. 60/70 is one of the most used grades and it's a basic material for all other bituminous products.
Penetration determines the hardness of bitumen by measuring the depth to which a standard loaded the needle will vertically penetrate in 5 seconds, in a sample of maintained at a temperature of 25 degrees Celsius.

Application of bitumen penetration grade 60/70

Bitumen 60/70 is suitable for road construction and for the asphalt pavements with superior properties. This type used in the manufacture of hot mix asphalt for bases and wearing courses and the main usage of this product is used in the road in mild regions. The bitumen is provided during the presses of oxidation of vacuum bottom in production units. Due to its medium air blowing and penetration, it is used in mild areas.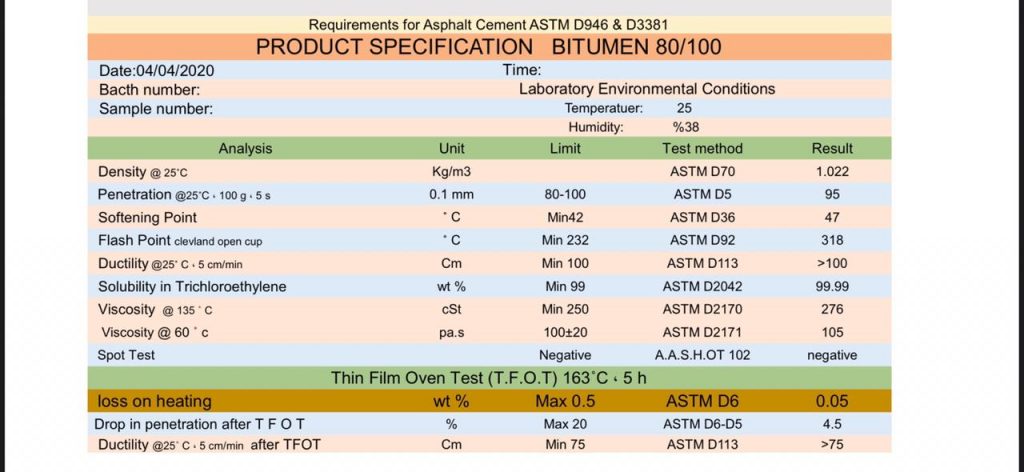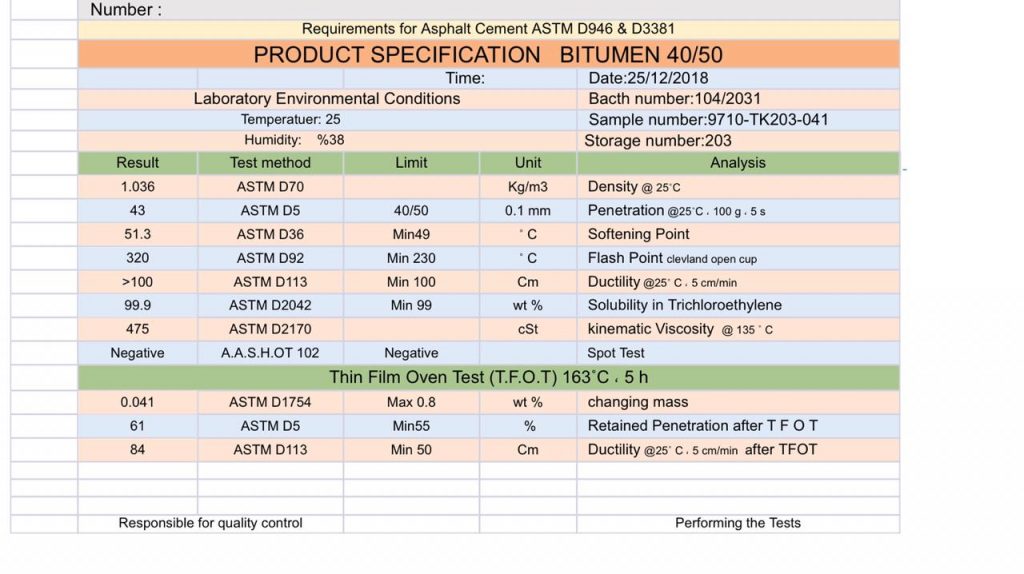 We, AL JABAL GLOBAL TRADING FZE as a top bitumen exporter, guaranty the quality of penetration grade 60/70 with the arrangement of the international inspectors to check quality and quantity of the penetration grade 60/70 during the loading to the vessel and controlling the production by QC by batch test report before shipping. AL JABAL GLOBAL TRADING FZE guarantees the quality to meet with the requirement with actual requirement you asked for.
Contact us
Office:
Office 1010, Floor 10, Grosvenor Business Tower, Barsha Heights Dubai, UAE
Office Tel / fax :
+97148817407/8

WhatsApp and direct mobile:
+971523717966



Youtube Channel:
https://www.youtube.com/channel/UCD5KQYPL9snHIpdtMoURD1w
Email:

info@aljabalglobal.com


If you want to receive the fast offer delivery to your final destination , please fill the form completely.